24/7 Support
24/7 Support – helpful service for every member
Right after starting of Love-Temptation we understood that every member needs proper informational help and support. So, we organized a 24-hour 7-days a week support service. The workers speak perfect English, Russian and Ukrainian. We don't just answer your questions, we provide prompt help and deal with every situation.
24/7 support makes it easier to enjoy video chatting with wonderful Ukrainian girls and find your real love!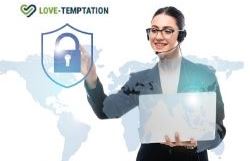 What can I ask in support service?
At first let's look at how to use the option. You just need to look at the left bottom of your screen while you are on any page of the website. Push the blue field and open the dialog window, then just type your question.
Let's also talk about what you can ask in support service.
Please, note! We ask every member to read FAQ section in order to get the information on frequently asked questions. If you don't find the answer there, feel free to contact the support.
Here are some popular topics for questions to our support team:
money issues – transactions time, amount of money on account, credits issues;
paid services – problems with buying any service, too many credits written-off;
scam hesitations – you noticed a girls with not original pictures, fake profile;
rules violation – some member of the website violated service's restrictions;
general questions – you don't know how some parts of the service work;
how to register – new members get help with signing up in support service.
Of course, it's not the restricted circle of topics you can go to support with. If you have any troubles while video chatting with beautiful Slavic girls, feel free to get the help. We'll do our best to provide needed help and solve your difficulties.
Pay attention: we don't give any private details of users, we also don't share telephone numbers and addresses. If you want to contact some woman for giving her a present, just write message to support – we'll propose you possible variants.
What to do if you want your money back?
Before you pay for the service, make sure you need the online chats and want to use it as the way to find a bride. For refunding you need to read our Refund Policy page and get the procedure. After that create application for making a refund. It will be studied by our workers and processed according to the rules.
There are no such cases in which our website support is not helpful. So, if you have any difficulties, just contact us via online form and ask your questions.