Find Bride
How can I find a bride?
There are loads of absolutely stunning in all ways Slavic girls who wait for you to write them e-mail or to start a chat. So, it shouldn't be any trouble to find the one you'll love. You probably know that Russian beauties are known not only for astonishing appearance and wonderful fitness; they also can impress you with their kind and passionate personality.
What can take you back from finding your love on Love-Temptation is only lack of confidence. Every day we see hundreds of men with different ages, nationalities, bodies and budgets finding beautiful brides and taking them home to their country. Why shouldn't we write about your success then?
Steps to find astonishing brides from Ukraine or Russia:
Be confident. The girls aren't likely to love the lack of confidence in guys, so you have to insist on a chat if you want to or to make her tell something you'd like to know.
Don't make up any facts. It's been a lot in our experience that a girl went abroad and returned just because she expected something different.
Create great profile. Upload some pictures and don't try to make you look better on them. They will love you just because you deserve it.
Try to be online. It's important to answer questions and letters as soon as possible. Remember that the ladies are here to find their love, too.
Take your time. You won't need to plan a wedding after the second talk with a girl. Think of how you can get to know her better.
These are the most important things to remember when trying to create a family with a girl overseas. Of course, you bear some risks, no one can guarantee you that the chosen woman wants 3 kids and eternal life with you. But still, it's only up to you to check everything twice and decide if you want to change something.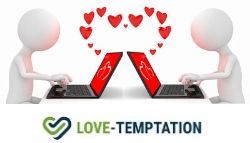 How to create optimal profile on Love-Temptation?
All you need to do is to write some facts about yourself. Don't hide your age and be sure to write your true job. Remember – you want to find a wife or a girlfriend, so she'll anyway get to know everything about you. Also we recommend uploading at least 3-5 pictures in different situations. It'll help you to show your appearance before the meeting.
One more thing – write a small welcoming letter in your profile. In it we recommend writing your purpose and your story. Everyone comes to us with different goals, and it's vital that girls know why you are here.
You'll get full satisfaction in here if you aim at:
finding new friends worldwide and communicating with them;
getting to know pretty Russian women for family purposes;
searching for girlfriend overseas and moving to her;
looking for your future wife to bring her to your country;
planning a trip to Slavic countries to find your love here.
What else can we recommend for finding wife?
Every single day we meet a lot of desperate men who tried absolutely anything for happy marriage. They are usually disappointed with where they got and who are around them. It's all under your control to change everything. We also see hundreds of men every day who find their happiness on this website. And we are glad to inform you that personally you are in a distance of one step from it.
Take your life under control and make important step to happiness. We'll help you with every important thing you'll need.