Anti-Scam Policy
Love-Temptation's anti-scam policy
Quite obvious that online dating is a way for some people to earn money and try to cheat. Usually it's done by creating a fake profile with pictures from internet and texting with men for some material purpose. Love-Temptation makes strong efforts to avoid any scam and fraud on our website.
We guarantee that in here you'll find only real girls because we have a strong anti-scam policy and anti-fraud department with professional team. In this article we'll reveal how we stop any scam.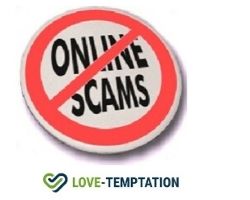 What do we do to stop fraud on the website?
We believe that our protection policies are 100% enough to stop any illegal actions and to bring loving atmosphere to the chat rooms. It's so important for our mission completion and it makes us feel good that we really differ from our competitors by a strong anti-scam department. Main tasks of the department are following:
control over new girls, profiles checking, calling and making sure they are real;
watching new members, understand if they are here to create a family or for some other purpose;
checking documents, finding mistakes in any profile data, making corrections;
asking for some special pictures or videos to check appearance of Ukrainian brides for live chat;
blocking members who violate the rules of our website or try to earn money from men.
Also we are always online for any scam messages. If you believe that a girl is here not for family creation, you may contact us. Our anti-scam department will deeply check the case and block the girl if everything is proven.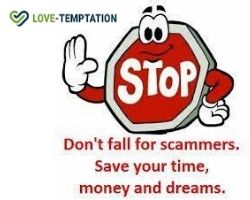 In what cases you shouldn't report a fraud (it's usually not a scammer)?
On some point of your communication the lady decides not to continue talking because she is bored or she doesn't like the path of conversation.
The girl is often online – don't take it as scam, because lots of Ukrainian women don't have any job and are ready to seek for love 24 hours a day.
Rings on right hand ring finger don't mean that a girl is married or engaged. In Russia it's only an element of decoration.
The girl doesn't answer all questions and doesn't agree to marry you from the first talk – have some patience and conquer her heart.
Pictures of ex-boyfriends or ex-husbands on social network profiles aren't also the evidence of scam. Russian ladies are fond of uploading pictures.
Photos of our girls are used on different websites with other names and ages. We try to stop that, but it's usually out of our control.
Please, don't report scam just according to these facts. We check every profile and we're 100% sure that every picture on the website belongs to the profile's owner.
What are the suspicious things to reveal the scammer?
You may easily understand that a girl is a scammer. We make everything we can to stop any fraud, but 0.1% of profiles still can be scammed. There are simple ways to get that Russian ladies' photos appeared to be just a fraud. Look at such factors:
The girl doesn't express any emotions – just types and doesn't react on your jokes.
It's always dark or always light through the windows, the weather doesn't change.
Messages are too correct grammatically and seem to be written beforehand.
There aren't any changes in appearance and clothing of a girl during some days.
You realize that a video chat repeats with some short sessions of prepared video.
The girl is aimed at getting money, she asks for a money transfer or some gifts constantly.
How can I protect myself from a scammer?
If you detected a scam on Love-Temptation, just stop video chat with that person. We also ask you to give a nickname of that person in order that we made an inner investigation. We fight scam and fraud, so we ask our members not to make any money transfers and precious gifts until they understand that it's a real girl and she really needs help.
Any questions regarding anti-scam policy can be asked freely at any time using Support. We'll be glad to help you at any time of the day.