Full Privacy
Full privacy for your intimate conversations
It's unlikely that someone would like total control while romantic chatting with beautiful Slavic girls. And we provide complete privacy for all your chats unless you violate our main rules. Be sure that no one and under any circumstances can read the conversations and get the information. It's recorded and displayed only in your account and in account of the girl you are speaking to.
If you want to find wonderful Ukrainian brides, welcome to our website. Just become a member and you'll get all the pros immediately.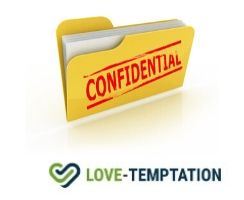 Why is privacy important for our members?
At the very beginning of our service we understood that romantic chatting should be completely private. Otherwise no one would want to reveal the secrets and say intimate things. But you can't get to know the person if you understand that the conversation is being watched by someone. So, we decided to provide full and unlimited privacy.
It gives our members visible pluses in using the live chat service:
You are always sure that the information will not go further than between you and your prospective fiancée.
You may speak about whatever you want. There aren't any restrictions until the rules violation.
There is no control at all, we don't interfere into your private chatting (it's only possible when someone sends complaint.
Your rights aren't violated, we propose legal service with full privacy, our policy has been clear for long time.
Any other girl on the website can't know what you are speaking about with your favorite prospective bride.
Privacy policy is an important part of our work. It hasn't changed since we started and we hope to keep it as democratic as we can. But we also hope that our members will contribute to such freedom and won't violate our inner rules.
Don't be rude to your chosen girls, don't send them any contact numbers and don't ask them to strip on camera or whatever. We strongly forbid this in order to make conversations fully aimed at getting to know each other better.
What if someone violates the rules?
We do our best to provide antiscam mechanisms which work better every single day. But rules violation is hard to control without your help. If you speak to a girl who doesn't obey one or more rules of out service, go straight to support workers and give the nickname of a girl. We can only read the conversation if you agree with this. Otherwise our support workers can't get access to the history of your talks.
We provide the best service and make a lot of improvements every day. We'll be so glad if you become the part of our society!